FUEL FILTER TRAP CONTAMINANTS IN
fuel, oil, diesel oil in LPG installations, providing efficient protection to precise elements of the engines fuel systems from quick wear. These fuels contain contaminants resulting from the production process and distribution. Dust, soot from outer tank surfaces, water and microorgannisms may cause quick wear of injectors, pumps, or pressure- regulating valves in modern engines. Therefore each fuel system has filter which are optimally selected according to engine requirements, fuel quality and expected exploitation conditions. Requirements for filters are very high. The filtering for modern engines is required for contaminants particles size 3 / 5 um with over 90% efficiency. For better performance, more than one filter is installed in the fuel system in many cases. However in comparison with oil filtration, there are no by-pass valves in fuel filtration which clear the fuel flow, when the filters are clogged, as it is rule that only clean fuel goes into the combustion chamber. The refore it is better that the engine stops due to lack of fuel(dirty filters) than if it had to work using non filtered fuel.


CAN TYPE FILTERS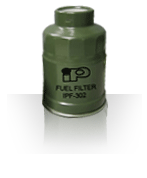 Can type filters are usually applied as fine filters and coares filters in multistage filtration systems, and there are often filters used with characteristic drain plugs inside the separator. Water generally does not dissolve in fuel, but remains as drops or emulsion causing corrosion process intensification of metal parts in fuel system.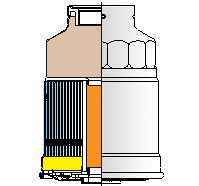 Water is removed from fuel using sedimentation effect (gravitation drops settling in decanters) and coalescence - water drops separation in fuel flow through filter medium. These filters are designed similarly as can type oil filters, however, they do not have any inner valves. The filter replacement process is also similar and means only unscrewing the used filter and tightening the new one. Also as in the case of spin-on oil filters, used filters disposal is expensive and this model is widely replaced by ECO cartidges.
IN-JECTION FILTERS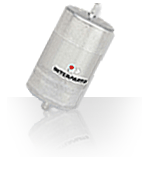 In-jection filters are applied in fuel systems, especially in petrol carburettor en-gines and fuel injection engines,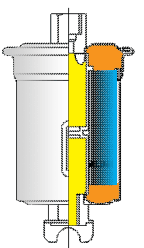 installed on the fuel pipe using quick connect fittings or band clips. These filters have a filtering cartridge with paper medium, which is pleated or warped. Warped cartridges are made of special, thin filtering material. It has a highly filtration efficiency but limited absorptivity; hence the filtering medium surface for these filters must be larger than for filters with pleated medium.